Jokic Era: The black rainbow jerseys are mid
Sacrilegious! Blasphemy! String him up by his innards!!! I hear your anger coming through the computer screen at the mere suggestion that the Denver Nuggets 2019-2020 City Edition is anything but the greatest article of clothing since a caveman first looked at a saber tooth tiger's fur and thought "that looks warm." I'm going there. After first bringing back the rainbow in an ultra clean but modernized white version of the 80s classic during the 2018-2019 season, Nike then went with the lowest hanging fruit possible (hell, let's be honest, that fruit hung so low it was already on the ground) and did the same jersey, just in black.
People lost their freaking minds because of course they did. I mean, you could take the early 80s Cleveland Cavaliers home jerseys and do them in a black alternate and people would lose their minds. For whatever reason, you take any jersey in any sport, make a black alternate of it, and people will act like it's the best thing since sliced bread. Now, I'm not saying black jerseys aren't cool. I think the 90s Bulls black jerseys with red pinstripes are the coolest jersey ever made but here's the thing: black is one of the Bulls colors.
Arguably the best uniform in the league to go with what was already one of the best uniform sets around. Nuggets have absolutely crushed it with their rebrand and uniforms over the last two seasons. https://t.co/A3lBjWmYJ5

— Harrison Wind (@HarrisonWind) November 20, 2019
As far as the Nuggets are concerned, black has never been part of their colorway. Back when the team was the Denver Rockets they originally went with orange and black as their primary colors and that abomination lasted until 1971, going down as the worst jersey kit in the history of the franchise. I'm not get off my lawn guy when it comes to the whole multiple jersey fad that Nike has made a ton of money off of, new jerseys are cool and exciting and great for content. I just absolutely hate how it's a given that Nike will force a black colorway on every single team at some point. There were twelve City jerseys last season alone that featured black as a color and less than half were for teams who actually use black as part of their color scheme. In fact, as far as I can tell, every single team with the exception of the New Orleans Pelicans (who got a City jersey with the darkest shade of purple possible instead) has had some sort of black jersey since Nike took over in 2017. It's played out and overused in the NBA alone, let alone when we consider how big the fad of black jerseys has become everywhere else in the world of sports.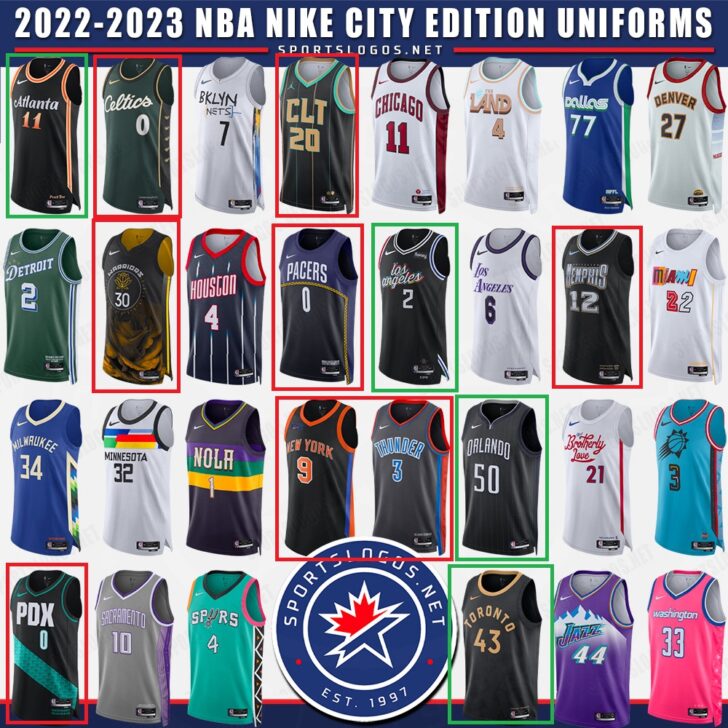 I get it. Every single sports apparel company out there makes a killing with some sort of black alternate jersey. It sells and to be clear I don't hate the black rainbows. They are still leagues better than some other notable flops when the Nuggets attempted a skyline jersey (2022 red skylines were atrocious and the all yellow skyline statement edition of the 2010s is the worst jersey to ever have the word Nuggets on it). I'm just not all googly eyed and oh my god this is the greatest jersey ever! They're not even better than the white skylines from a year prior which had a much cleaner look than the clashing neon rainbow colors against a black backdrop. Sorry, not sorry.
Melo Era: Carmelo Anthony's jersey belongs in the rafters at Ball Arena
Listen, I hear you. I get how you feel. I felt that way too. Back in the Summer of 2010 while Carmelo Anthony's extension remained noticeably un-signed the inevitable truth was dawning on us all: Melo had to be traded. No one wanted to trade him of course. He was the face of the franchise and absolutely beloved, even with the playoff shortcomings, but the writing was on the wall and not on the extension. What followed that summer was an arduous five month ordeal of a very public acknowledgement that arguably the most talented player to ever wear a Nuggets uniform to that point was playing his final days in said uniform. What made it extra painful was the very understood sentiment that Melo wasn't doing this for necessarily basketball reasons but for opportunities to grow his own personal brand in New York City. You're always fighting for every scrap of respect as a small market NBA fan, particularly with a franchise that has a lengthy but underwhelming history in the league. For Denver it felt like their brightest star decided the city was just too dim and that hurt, bad. Particularly to the younger generation of fans who spent their early and teenage years only knowing the Melo era of Nuggets basketball.

Pain gives way to anger and anger builds grudges. That's just what many Nuggets fans did and that grudge has led them to believe even the idea of honoring Melo in Denver with a jersey retirement is absurd. I disagree.
Everything looks different when considering the full context. There were in fact basketball reasons for Melo to leave. It very much looked like that iteration of the Nuggets peaked in '09 with a loss in the Conference Finals. By fall of 2010 Chauncey Billups was 34 years old and past his prime (the next season Billups tore his achilles which effectively ended his career), Kenyon Martin was 33 (never started more than 15 games in a season after that year) and Nene was in the final year of his contract. The Nuggets were staring a rebuild in the face as Melo entered his prime. The New York Knicks meanwhile featured a slew of young players, a huge free agent signing in 28 year old perennial all star A'mare Stoudemire and a resurgent Raymond Felton who was a borderline all-star candidate averaging 17 points and 9 assists up to all-star weekend in his first season with the Knicks. Fact of the matter is, the future looked brighter in New York.
Even more importantly is regardless of why Melo left, it doesn't change what he did while he was in Denver. The late 2010s isn't the first time the Nuggets built an exciting young core around a center, point guard and forward. That's exactly what they had back in 1994 when Dikembe Mutombo, Mahmoud Abdul-Rauf and Laphonso Ellis shocked the world as the first eight seed to beat a one seed in the playoffs. Unfortunately, that core got Nugg Life'd about as hard as anything in the history of the franchise and that kick started eight straight losing seasons starting in '95-'96. It wouldn't end until Melo's arrival in 2003 and the Nuggets would never miss the playoffs again during his tenure (7 straight appearances, 2 more than Daivd Thompson). That level of success, again admittedly without a lot of post season success to go with it (but with far more than some other names in the rafters), and more importantly the impact it had on the fan base, are reason enough for me to say Melo deserves his jersey to be retired.
*Final note on the topic: No, I don't care that Melo's # is 15 and Nikola Jokic, the greatest Denver Nugget of all time, also wears 15. Retire Melo's jersey, let Nikola still wear 15, retire 15 again for Nikola. You can have two 15 banners hanging with one saying Anthony and one saying Jokic, it's not a big deal.
The dark era (late 90s): Raef LaFrentz was a good pick in the moment
Alright, alright. Not liking the black rainbows can be chalked up to me having no fashion sense, Melo getting his jersey retired might just be biased from my fandom, but there is now way, NO WAY, I can think Raef LaFrentz was a good draft pick right? Oh no my friend, oh no no no, Raef was 100% a good pick for Denver to make back in 1998.
Now listen, in '98 I'm 13 years old and a child of two Chicago transplants living in Colorado. I loved basketball and I loved Michael Jordan, and had absolutely no team to root for locally on the college side because, well, 90s college basketball in Colorado wasn't exactly the western version of the Fab Five. Naturally, when it came to rooting for a college team I rooted for Michael's team, the North Carolina Tar Heels. I absolutely did not want the Nuggets to take Raef in the '98 draft, I 100% was team Antawn Jamison who was the Tar Heels best player and also the AP Player of the Year. I was upset when LaFrentz's name got called when the Nuggets time to pick came up. I was upset because of my fandom though, not because the pick was the wrong one to make for the team.

The '97-'98 Nuggets were absolutely atrocious. They won eleven games which still stands as the worst season on record for the franchise. They had Laphonso Ellis to play one of their forward spots but Phonz was playing for his next contract which was not going to happen in Denver. Next to him Denver played two rookies (Tony Battie and Danny Fortson) that they invested high draft picks in but were busts out of the gate. In fact, Battie was infamously dubbed "El Busto" by Dan Issel. Fortson and Battie falling flat on their face resulted in Dean Garrett (stiff), a negative player in terms of BPM and VORP, starting 82 games for the Nuggets that season. Despite attempts to bolster the frontcourt, it was a complete mess come the '98 offseason.
Ellis left for Atlanta and the Nuggets went to work righting the wrongs of the 1997 draft and everything else that happened in that terrible season. They rebuilt the backcourt by shipping El Busto to the Lakers in the Nick Van Exel trade and sent Garrett to the Timberwolves in a three team trade that landed hometown hero Chauncey Billups. Then they used free agency and the draft to rebuild their frontcourt. They took LaFrentz third overall and locked Antonio McDyess in the Pepsi Center until he signed a contract to return to the team. Add in defensive rock Bryant Stith on the wing and the Nuggets had a very respectable starting unit of Van Exel/Billups/Stith/McDyess/LaFrentz. The bench still underwhelmed but Denver was on the right track.
The Lafrentz pick is often maligned though, primarily because of who was selected immediately after him. Jamison went 4th, Vince Carter went 5th (and was traded for Jamison on draft night) Dirk Nowitzki went 9th and Raef's college teammate Paul Pierce went 11th. Fact of the matter is, with perhaps the exception of Pierce, coming out of college Raef was a better prospect than any of those guys.

His college career was on par with almost any big in the 1990s. He was a back to back consensus AP All American, one of only three players to accomplish that in the 1990s…the other two? Shaquille O'neal and Tim Duncan. He was also the back to back Big 12 player of the year, something no other Jayhawk has done twice and an honor his teammate Pierce never received even once. He was a three-time member of first team all conference (it was still the Big 8 back in 1996). Raef's college career stands next to any in the 90s and when it came time for the 1998 draft, the Jayhawk big was a consensus top 5 pick and almost universally considered to go ahead of Carter and Jamison (ironically, Pierce was considered the best prospect not named Mike/Michael by the media and wound up being drafted lower than any of the other hall of farmers in that draft pool).
The Nuggets were well known to be looking for a big. Many thought if the Los Angeles Clippers took Mike Bibby first overall then the Nuggets would trade up a spot with the Vancouver Grizzlies, who already had Bryant "Big Country" Reeves, to take Michael Olawakandi. When LA took Olawakandi first overall, Vancouver stood pat and picked Bibby and left the big searching Nuggets with the choice of taking one of many wing players or taking what looked like a sure thing at the power forward position in Raef.
Not rewriting history and understanding Raef was looked at as one of the best prospects in college basketball is half of this story, the other half is what happened to him less than three weeks into his NBA career. The 98-99 season was shortened by the longest lockout in NBA history. In fact the whole season was almost canceled when the calendar turned to 1999 and no deal had been made. The lockout started on July 1st and it wasn't until late January until the NBPA and Owners came to an official agreement. It was a messy lockout ripe with drama, unions dissolving, lawsuits, infighting, threats to hire replacement players and, like most lockouts, the players ultimately caving and taking a poor deal. It also resulted in a shortened NBA season starting on February 5th, just 16 days after an agreement was reached.
For Raef that meant spending almost 7 months not in the facility of the team that drafted him and then getting all of two weeks to prepare for his first NBA season. Despite the setbacks, he came out looking every bit like the top pick he was meant to be. Billed as a sweet shooting stretch big on offense who could give you great rebounding and defensive presence, Raef shot almost 39% from three, averaged 14.9 points, 8.1 rebounds and over a block and a half per game and racked up three double-doubles in his first eleven games (including dropping 24 and 12 in a loss to the Lakers). His career was off to a great start…and then disaster happened. Just 12 games into his pro career and just over a month after being allowed into an NBA facility for the first time, Raef tore his ACL and meniscus and was done for the season.
Even today ACL tears are a tough road to come back from in the NBA, but in 1998 they were often viewed as career enders. Raef wouldn't succumb to that. He ultimately would return to the Nuggets the following season and start on opening night, less than nine months removed from ACL surgery. Unfortunately he never recaptured that hype from his college days though. Still a solid player, he spent two and half more seasons in Denver and started almost every game. He was dealt at the deadline in 2002 along with Van Exel and others to the Dallas Mavericks for Juwan Howard, Donnell Harvey and monitor chucking Tim Hardaway.

Who knows what happens if Raef doesn't tear his ACL. Maybe if he blossoms into the ultimate stretch big like everyone thought he was going to be, all those open lanes in the paint from him drawing out bigs to the three point line would have made McDyess forget the Nuggets kidnapped him to get him to sign a contract. Maybe Chauncey doesn't get dealt to the Magic in 2000 and matures into a hall of fame talent in Denver instead of in Detroit. Maybe the Nuggets don't end up losing 55 games in 01-02 and don't draft a true bust, Nikoloz Tskitishvili, later that summer. Impossible to say, but one thing that can be said for sure is that Raef was absolutely a top prospect in 1998, absolutely fit the biggest position of need for the Nuggets and was absolutely the right pick to make at the time. Anything else is simply revisionist history