Part V: One, Two, Three, Six Weeks!
The new players from the Carmelo Anthony trade showed up for the first home game even though they couldn't suit up yet, and were greeted with enthusiastic applause. Raymond Felton had asked Ujiri not to trade any of them — they were excited to play for the Nuggets. The rest of that season turned out to be kind of a blast, actually. The Nuggets integrated everyone and made it into the playoffs as the fifth seed. They lost to the OKC Thunder in five games, but at least we all liked these new guys, and it seemed like maybe everything wasn't ruined after all.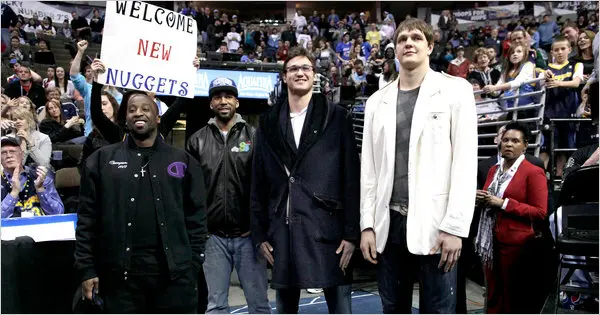 The 2011-12 season was shortened by a lockout. The Nuggets continued to surpass expectations after the departure of Anthony and Chauncey Billups. Kenneth Faried, picked by the Nuggets at 22 in the 2011 draft, was looking like a great steal. His superhuman leaping ability, combined with his incredible hustle and beaming smile made him easy to root for, even as his defensive shortcomings were quite visible. Ty Lawson was coming out from under Billups's shadow. The new guys could actually play. As the Knicks struggled to meet their very high expectations, it was looking like the Nuggets actually got the better end of the deal.
And then, late in the season, Masai Ujiri made another highly consequential trade. Nene was sent packing to Washington, D.C., and the Nuggets got back JaVale McGee. This was a big gamble (and it came with some more bad PR, with Nene departing bitterly and silently, much like Billups had). McGee certainly appeared to have a lot of potential, but he was one of the Wizards who'd jokingly danced in that circle around Gilbert Arenas, who had recently gotten in trouble over a firearms incident and was firing finger guns in the air as his teammates laughed. But this was what it was like for mid and small market teams. You had to gamble and hope you'd find some overlooked gem that you could polish and turn into a winner, because none of the big name free agents were going to consider you.
It was another instance of NuggLife, to have this super talented big guy on the team who was something of a laughing stock to many observers of the league. Shaquille O'Neal in particular loved heaping derision on McGee during his weekly "Shaqtin' a Fool" segment on TNT's Inside the NBA. I refrained from judging Ujiri for the move. I kept thinking to myself "The only way the Nuggets are ever going to win a title is if somebody like this comes along and shocks everybody."

Veteran point guard Andre Miller came back to the Nuggets and provided some steady leadership, as well as a lot of very enjoyable alley-oop passes to McGee. There was also a picture of Miller visiting a buffet table that we joked about pretty often on Stiffs. The team managed to head into the playoffs as the 6 seed, with the narrative being that they were this scrappy, starless team with tons of depth. Alas, they drew the hated Lakers again in the first round. It was amazing to see them push it to a seventh game – the hated fans of the hated Lakers booed their team during one game, such a beautiful sound – but the Nuggets fell short in that seventh game.
The 2012-13 season was full of many glorious highs, but then a couple of megadoses of NuggLife came at the end to smother our hopes. Ujiri pulled off another big trade in the offseason, bringing in Andre "Iggy" Iguodala from the 76ers. It was reported that Iggy was very unsure about the move, but he talked it over with Carmelo Anthony, his teammate for the 2012 USA Olympic team. I was quite surprised to hear that Anthony reassured him, telling him "You're a real George Karl type of player," and also "The fans there are great." (At that point, Anthony still hadn't come back to Denver to play a game against the Nuggets – due to the shortened 2011-12 season, the Knicks didn't come to Denver, so the fans hadn't had a chance to boo him yet.)
They ended up going 57-25, still to this day the best regular season record in franchise history. The season before, NBA TV did a season-long feature about them, filming a bunch of their practices, interviewing players and coaches, etc. A clip from training camp showed Karl sternly lecturing the team: "Pass the ball. Drive the ball. Shoot the ball. DO NOT HOLD THE BASKETBALL." They continued with that principle to even better effect in 2012-13. The offense was something to see. Karl would have players go stand out of bounds to space the floor, chuckling in interviews about how opponents would often get confused and just go guard the guy out of bounds. The big emphasis was on trying to maximize points in the paint, and three pointers. There were TONS of fast breaks, and lots of unselfish plays. It seemed like the lack of superstars made the team extremely coachable. Karl was really getting his way.
That was both good and bad, though. The team went 38-3 at home! But only 19-22 on the road. Throughout the franchise's history there were a lot of attempts to gain advantage from Denver's altitude. Get these other teams in the building, and run them into the ground, because they're not used to the thin air. It had produced some fun basketball, but never any playoff success, with just three trips to the Conference Finals in over thirty years. The 2012-13 Denver Nuggets were the most extreme implementation of this strategy. Quite a few of those 38 home wins were gained against teams coming into Denver on the second night of a back-to-back, having flown in from the west coast the night before and losing an hour of sleep. Running those teams into the ground could often be like shooting ducks in a pond. At one point, Gregg Popovich issued a complaint to the league about it.
We were all pretty high on the team that season. There was such great camaraderie, watching Danilo Gallinari after hitting a big shot, doing his Italian gesture, sort of an exaggerated chef's kiss, and his teammates on the bench reciprocating. And it seemed like we were seeing a great, inspiring story, like the Bad News Bears were turning into a contender. In particular, with Gallinari, Wilson Chandler, and Iggy all on the floor at the same time, there were three highly intelligent defenders working together who could switch to guard multiple positions.
And then there was the blowing out of Gallinari's knee, with just a couple of weeks left in the season. It was one of those ones where you knew it was really bad because it didn't result from any contact with another player. He just landed on it and it gave out.
The playoffs started with the 3rd seeded Nuggets hosting the 6th seeded Golden State Warriors, who'd finished with ten fewer regular season wins than the Nuggets. I'd been living in California's East Bay since 1998, and I actually attended the regular season game in Oakland on 11/29/2012, where Iggy's buzzer beater got waived off and the Nuggets lost 106-105. It was a pretty frustrating game to watch. I kept waiting the entire game for the Nuggets to go on a big run and put the Warriors away, but it never happened. I noticed how much emphasis the Warriors were putting on hustling to get back on defense and deny fast break opportunities.
Even still, I thought the Nuggets would win the series, injured Faried ankle and all. At the start of game 1, after player introductions, right before tipoff, Stephen Curry (I've corrected the spelling of his first name here to match the pronunciation) looked at the calm, reserved crowd and said to Faried "Is that all you got?" I certainly remembered from the games I'd attended in Oakland over the years how loud and raucous the Warriors fans were. Nevertheless, the Nuggets eked out a win thanks to the late game heroics of Andre Miller, who hit the game-winning layup over Draymond Green. ("He's their best defender!" chirped Miller exultantly during the postgame press conference.) Game 2 was the killer. I got a bad feeling about it when I realized that during the days long gap between the first two games, the Warriors opted to just stay in Denver the whole time, so as to acclimate to the altitude. They came into the Pepsi Center for that second game and absolutely smothered the Nuggets under a barrage of three pointers, including four from Curry.
I thought about something Karl had said in the past: "If you win three fourths of your home games, and half your road games, that gets you to 50 wins!" Why was he satisfied with that? Few teams had ever won a title in recent memory with such a poor road record. How I longed for a Nuggets team that could play good, sound basketball at both ends of the floor, in a style that would work well in any arena.
Some Nuggets fans were hopeful that our team would bounce back in this series, but I knew in my gut that it was over. 38-3 at home, 19-22 on the road – how were they going to win a game in Oakland?
Well, they didn't. And there was lots of ridiculous, drama-laden NuggLife along the way. Here's an excellent breakdown from Zach Mikash about how Iggy earned the nickname "The Mole."
The Warriors won the series in six games, helped not only by their hot shooting and their readiness to deny fast breaks, but also by the dirty play of center Andrew Bogut. There's a real NuggLife gif from the series where Nuggets forward Cory Brewer throws up a three point shot that gets wedged between the rim and the backboard. Iggy turns in disgust and starts heading back on defense with his head hanging low. In the meantime, Faried is struggling to free his arm, which Bogut has pinned to his own side. The refs seemed happy to let Bogut do whatever he wanted out there, a special treatment that would be passed on to Draymond Green in the years to come.
This was all pretty miserable for me, a Denver expat and die-hard Nuggets fan living in the East Bay, seeing everyone around here thrilled for their team's success and going nuts over their emerging star point guard, with his first name spelled the same as mine, but in his case mispronounced. In the years that followed, he would become one of the most famous athletes on the planet, his misspelled/mispronounced first name making its way into the record books for three point shooting. But I'm getting ahead of myself.
The NuggLife of the 2013 offseason reached utterly absurd proportions. It was just one ridiculous gut punch after another. Perhaps it's best conveyed with bullet points:
Iggy, due for a new contract, managed to find his way to the Golden State Warriors, so he could play for his good buddy, the loathsome Mark Jackson, even after the Nuggets offered more money.

Masai Ujiri won the Executive of the Year award, and promptly told Josh Kroenke that he was reneging on their previous handshake agreement to renew his contract in Denver – he was taking a new job as President of Basketball Operations for the Toronto Raptors. "Don't bother trying to counter-offer," he told Kroenke.

George Karl won Coach of the Year, and then was fired.

Danilo Gallinari sought a controversial, experimental treatment for his knee, going against the advice of Nuggets medical staff, and the results were awful, greatly prolonging his time on the injured reserve list.

The Nuggets hired Tim Connelly as the new GM, and stories started coming out about his apparent gross incompetence, with other GMs around the league saying they were startled by how he didn't seem to grasp very basic things about the job.

The Nuggets hired Brian Shaw as the new head coach.
The 2013-14 season, the beginning of the Brian Shaw era, started with one hell of a bad omen. At the home opener on November 2, beloved mascot Rocky was lowered from the rafters, slumped over unconscious in his harness. He turned out to be okay, but what a chilling sight that was.

Ten years later, I'll offer this about Shaw's tenure with the Nuggets: he was dealt a very bad hand. I think it's perfectly fair to say that he then played that hand really poorly, but think about it for a minute. He was brought in to try to reverse Karl's philosophy, but the franchise had been built around that philosophy for the last decade. It was a pretty tall order to ask him to make something entirely new out of all these pieces that had been assembled for Karl. Shaw was embattled the entire time. After a while, we were hearing that a possible reason he hadn't been hired for any coaching positions prior to this one was because he'd never managed to explain a detailed, coherent coaching plan in any previous interviews.
The Nuggets finished the season 36-46, and their ten year streak of making the playoffs was over. Ten years, and they'd only made it out of the first round once.
Shaw didn't make it to the end of the next season. By the spring of 2015, it was reported that the team was breaking from huddles with a chant of "One, two, three — six weeks!" Counting down how much of the season was left, eager to get away from the coach. Shaw was fired shortly thereafter, and assistant Melvin Hunt took the helm for the remainder of the season. They finished 30-52, even worse than the year before, seemingly stuck in purgatory. Ty Lawson, who should have been entering his peak years, missed games because of a DUI arrest. Ultimately, he'd end up with multiple infractions on his record, his promising NBA career ruined.
Ah, but wait, I skipped over something from the middle of the Shaw years (all two of them): the 2014 draft…