The Denver Nuggets were done no favors by NBA schedule makers when they were handed a six games in nine nights stretch just one week into the season. Denver has performed admirably though, winning four of the first five games in the stretch. Now they finish off the run with the New Orleans Pelicans. New Orleans is hoping to finally get a season where their stars Zion Williamson and Brandon Ingram are healthy but already ran into bad luck on the health front with C.J. McCollum suffering from a small pneumothorax that will sideline him indefinitely. Meanwhile the Nuggets also hit their first snag on the health front with Jamal Murray out with a hamstring injury. The show goes on for both teams who will have to find a way to overcome the absences of their primary scoring guards.
The Essentials
Who: Denver Nuggets (6-1) vs New Orleans Pelicans (4-2)
When: 7:00 PM MST
Where: The Can. Denver, CO.
How to watch/listen: Denver Stiffs does not condone piracy…unless it's the romanticized 18th century type. AltitudeTV where available (Altitude is available on DirecTV, DirecTV Stream and Fubo TV). NBA League Pass for those not in the Nuggets market. Altitude Radio 92.5. Tell security you're actually Zion's new dietician and need to get him his kale, cod, creatinine and quinoa shake before the game starts.
Rival Blog: The Bird Writes
Injury Report: Jamal Murray – out (hamstring), Vlatko Cancar – out (knee); C.J. McCollum – out (lung), Jose Alvarado – out (ankle), Trey Murphy III – out (knee), Naji Marshall – out (knee)
The Three Things
Key Matchup: Aaron Gordon vs Zion Williamson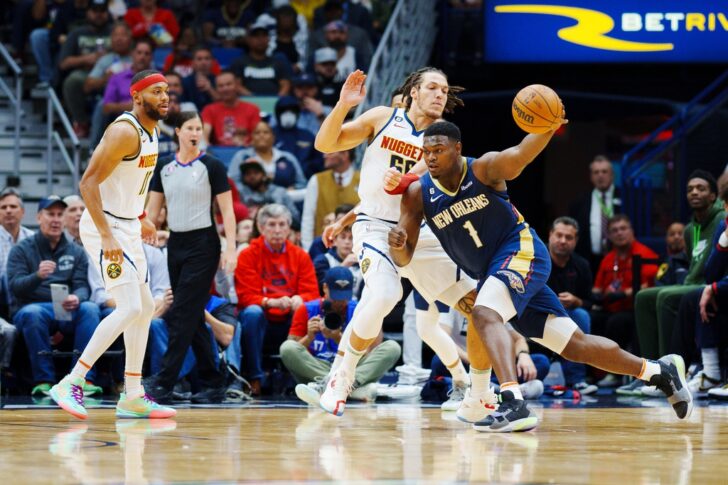 There's no doubt that the Pelicans go as Zion goes and when healthy he's one of the most difficult players to guard in the entire league. Gordon is probably one of the best suited in the NBA to guard Zion though. He's got the strength to not be bullied by him, but also the quickness to not get blown by either. Still, Zion's game isn't just about his physical gifts. He's an extremely skilled scorer and AG is going to have his hands full all night. Expect the Pelicans to also look to get Michael Porter Jr. switched onto Zion as well. Teams have been hunting that matchup with their stars in every game against the Nuggets thus far and it's come with mixed results as MPJ has stepped up his defensive game big time this year. Zion may present too tough a matchup for Porter regardless though as Mike gives up over 60 lbs in comparison to the New Orleans forward.
The thing to remember: the Pelicans are thin on the wings due to injury.
No McCollum certainly will hurt New Orleans' ability to score but they are also without two of their premier wing/guard defenders in Jose Alvarado and Trey Murphy. Alvarado in particular has been a nightmare for the Nuggets in games before. With the Nuggets down Murray it will make those absences more tolerable for the Pelicans but don't be surprised if a guy like Reggie Jackson has a big night. On the Pelicans side they'll be leaning on 2nd year player Dyson Daniels more who certainly is a capable defender but also likely gets thrust into a much bigger role than anyone anticipated this early in the season.
The thing to bet: Nikola Jokic over 1.5 threes (+145)
Yep, back to the Nikola two threes well again. I believe this will be the third time we've suggested this wager. I don't like to keep pitching the same thing at you guys but at +145 how can I not. Jokic averages 1.4 makes from three a game and with Jamal out he'll have to pick up some of those missing shots. Plus Jonás Valanciunas is going to want to stay down in the lane on defense so I expect Jokic to try to make him pay for that by shooting more jumpers.