It's been a pretty difficult off-season for not only the loyal Nuggets fans, but the team as well.
Since the Nuggets season was ended by the Utah Jazz, there's been a lot of negativity and worries in Nuggets Nation.
First off, the injuries:
Oh Kenyon Martin. The knee injuries just keep piling up. As we all learned, Martin had knee surgery on his fragile left knee. We have no idea when he's coming back, and it should be noted that he may never have the same explosiveness in that knee, let alone his right, ever again. It's sad. Martin is clearly the heart and soul of the Defense and the team. His presence on the team will surly be missed, being that he seems to be the only guy devoted to defense. We're going to miss the attitude, the rebounds, the dunks, the defense. 
We have no idea when (or if) Kenyon Martin will be back, which is frustrating. We're pushing for a title in Denver (or at least trying to), and knowing that Martin will be spending a good majority of the 2010-2011 season on the bench hurts a lot.
"No time soon. No time this summer. We'll see when the season starts. But that's so far away, that's months away. We'll see where I am at the start of training camp."
Also, he's been made as trade bait for the Nuggets. The Nuggets's Front Office has been in search of a big man (maybe two) to cover for the batter and crippled.  Kenyon Martin's surgery doesn't help the cause, but his expiring contract does. Who we can get remains to be seen.
As far as injuries go, I don't think anybody had it worse on the team then Chris Andersen.  He may have only missed six games this season, but don't let that fool you. Guy was a walking punching bag with a shit load of stitched holes coming undone.
Let's take a look:
Knee problems 
4 sprained ankles (all on the left)
Strained back
Broken ring finger
Sprained left pinkie
And a Partridge in a Pear Tree
See what I mean? A walking punching bag. Like Martin, Andersen had surgery on his right knee, and like Martin, he'll be spending the beginning of the season on the bench. The only good thing out of all of this is that he'll be back sooner then Martin. How soon? We don't know.
"Training camp or not, I'm not shooting for any date. I'm just trying to get my knee right. I don't want to get my expectations high and then get down on myself because I didn't come back by that time. Or, if I do come back by that time, I could possibly mess my knee up because I wanted to come back then. It's pointless. I'm taking my time."
We have no idea if he'll ever be the same again, which worries everybody, because he relies on his athleticism and shot-blocking. The blocks will be there, but we may never see the same explosiveness and energy Birdman brings ever again. It should be noted that, unlike Nene and Martin, he doesn't have a history of knee problems (until now I suppose), which is something people usually forget. 
Then, you got the NBA Draft:
What did we do exactly? Make a few phone calls in the end? All night long, the fans were watching everywhere. Hoping that the team struck gold and got something out of the Draft. Instead, we heard virtually nothing. We heard that the Front Office "was close".
"We were awfully active all night," he said. "I'm worn out, I know the rest of the guys are. It was a long day. We were very active all night long, thought we were very close a couple of times to sticking our toe in the water. We targeted a couple of guys that we felt were a little undervalued and would have liked to have come away with something. I think everybody had the same kind of plans."

 

 

"I don't think it's any secret we would have liked to have found a big man in the second round. We feel like a few of those guys will make the league," Chapman said. "It's hard to see them go to other places and rivals. We'll just have to be that much more diligent with summer league and a few guys that went undrafted that we had our eye on."
Not being able to make a move in the Draft left a bunch of negativity in minds of the Nuggets fans.  Sure, we weren't expecting to get a big time player, but if we even got the last pick in the Draft would have been satisfying. 
Next, the NBA Free Agency:
It's currently the 2nd week into the Free Agency, and we've been watching all of the big time bigs go somewhere else. There have been rumors about Al Jefferson coming to Denver, but there are several other teams in the hunt for Jefferson. We had a good shot with Jermaine O'Neal, but he decided that Boston was the better choice.  Udonis Haslem also turned the Nugget's offer down to return to Miami.
As of right now, rumor has it that the Nuggets have been targeting Louis Amundson, who is a Colorado native. 
Surly, the Front Office can use the "hometown" excuse to sign him. The only thing that the fans are well aware of, is that he's the younger version of Chris Andersen. He hustles, rebounds, and scores when needed. The only thing he'd be missing are the tattoos.  He'd replace almost everything Bird gives (except blocks), but what do you do when Andersen comes back? We know it's going to take some time before Bird is back into basketball shape, so Karl shouldn't throw him into the fire right away.
Also, we know the case with Nene and Amundson. They're not exactly friends. As seen here:
I'm sure Nene and Amundson could sort out their little problems and work together.
Remember, think Kobe Bryant  and Ron Artest. Anything is possible.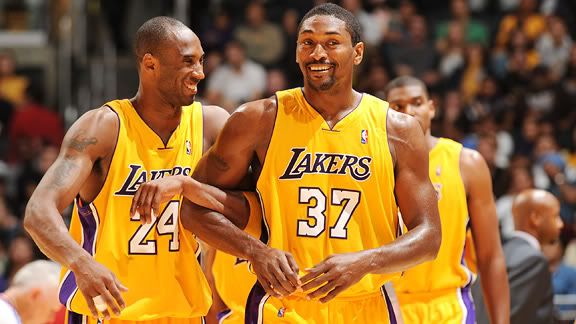 This would only be the case if Stan signs Amundson to a contract.
 Lastly, the problem with Carmelo Anthony's contract:
We're well aware of the situation. The Nugget's Front Office slapped a 3 year, 65 million dollar contract on the table for the superstar, but Anthony hasn't signed it. 
We know Anthony loves New York. We know where he played in College (Syracuse). We know where he was born (Brooklyn, NY) 
Everybody in Denver are aware that Anthony is an unrestricted free agent next year, and believe it or not, the Knicks are calling Carmelo's number. It remains to be seen what happens then, and we shouldn't be in panic mode yet. 
We can all agree that we want him in a Nuggets uniform for his entire career, and losing him would be devastating. After all, the guy is not only the face of the franchise, but he's the main reason why Denver is able to compete with the elite in the NBA. He revived the Nuggets from scratch. Nobody in Denver wants this guy to leave.
The only problem is that it's Carmelo's call. If the Front Office wants him to sign that extension, they have to make him happy. He's not asking for a bigger contract, he wants help. He wants a Center on the squad. He wants to make sure the team can compete for a title, instead of losing in the first round of the Playoffs every year.  Is it so hard to listen to the guy who put more money in your pocket? Do the honorable thing Stan, help Carmelo out and assure him that you're committed to winning. If you've made blockbuster trades before, you can do it again.