David Thorpe looks at the debate between the two scoring sensations ...
Look at the top three scorers in the NBA. Right behind LeBron James, the league's best player, are two special guys with some common threads running between them. Both are small forwards on playoff-bound teams. Both had historic one-and-done runs in college: Carmelo Anthony led Syracuse to an incredible national title run, while Kevin Durant dominated college hoops as few freshman ever have. And both learned hoops in famously tough and talented basketball hotbeds: Melo in Baltimore and Durant a short ride away in Washington, D.C. With LeBron, the reigning MVP, known more for his point forward skills and power forward physique, Melo and KD are the two best pure 3s in the game.
Durant and Melo have one more thing in common: Neither had made much of a splash in the NBA other than as a prolific scorer -- until this season, when each has expanded his game.
So as they face off Wednesday night, we have to ask: Who's better overall? Who has what it takes to stand astride the Western Conference for the next decade?
We're rating them in seven different categories on a scale of 0 to 10. A 10 means world-class level, with a 5 representing a league-average score. (Note: We used this scoring system instead of the 10-point must system used in the Kobe-LeBron breakdown so that we could more accurately represent Anthony's and Durant's weaknesses.)
Category No. 1: Shooting
Despite Anthony's reputation as more of a power scorer, and Durant's being known for his silky smooth shot, these players are very similar as shooters.
[+] Enlarge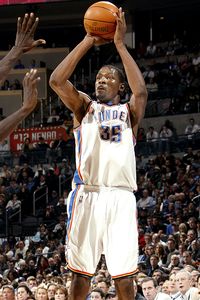 Layne Murdoch/NBAE/Getty Images
Durant's shot shows a great follow-through and good balance most of the time. He also does an excellent job of keeping his right hand under the ball while faking and jabbing. This allows for a quicker release because it keeps his right wrist cocked and ready to fire, and it's one of the most difficult concepts to learn.
The majority of his jump shots come from the midrange area, where he's connecting on about 40 percent this season. It's a good showing, but not great. In comparison, Dirk Nowitzki makes about 48 percent of his midrange shots and Kobe Bryant has surged to 46 percent (ahead of James, who's also at 40 percent). Still, Durant uses his size and length perfectly here, usually keeping the ball high throughout the shot to make it extremely difficult for defenders to make a play on the ball.
From the 3-point line, he's shooting 38.2 percent on about four attempts per game. Surprisingly, he's at his best from the wings and top of the key (over 42 percent) and weakest from the corners (under 20 percent). To his credit, though, he rarely takes the corner shots, given those struggles.
Anthony, meanwhile, has a great-looking, compact delivery with a quick release and good follow-through. Like Durant, he's been making about 40 percent of his midrange shots. But unlike Durant, he often sweeps the ball well below his knees before driving or shooting -- this technique makes it more difficult to shoot correctly. If he kept the ball closer to his core, he might improve significantly as a midrange shooter.
Melo doesn't take as many 3s as Durant or shoot as high a percentage (34 percent) -- he often struggles to complete his shooting form from this distance.
This category is closer than I expected, but Durant's 3-point edge gives him the round.
Durant 8, Anthony 7
Category No. 2: Scoring
This is actually where their games are the most divergent. Melo is blessed with the rare combination of power and quickness that LeBron shares and Shaquille O'Neal had when he was the most dominant player in basketball. And Anthony incorporates great timing into his attacks, making it hard for defenders to anticipate his moves.
He can make enough perimeter shots to beat you, and he has a great first step off the triple-threat position, enabling him to get into the paint frequently, as well as to the foul line. He earns about 10 free throw attempts a game and is shooting 82.9 percent from the stripe this season.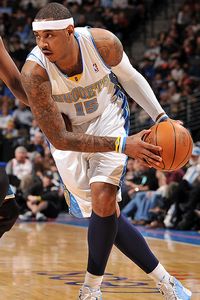 Garrett W. Ellwood/NBAE/Getty Images
Melo has a well-crafted post game, too, and he uses it like a hammer. He loves to seal smaller players inside after screens or cuts, and most other small forwards are too weak or small to handle it.
Thanks to that lethal combination of posting and slashing, and his two offensive rebounds per game, Melo takes the majority of his shots from the paint, even though a large percentage of his possessions begin on the perimeter -- and he makes about 58 percent of his paint shots. This could be better, but Melo doesn't explode to the rim quite as often as he used to.
Durant might not have Melo's physical presence, but he's lethal nonetheless. He's brilliantly crafty at using his length to draw fouls, a skill that gets him to the free throw line just as often as Melo. And Durant is a slightly better free throw shooter, at 88.3 percent.
Because he's often pressed on the perimeter by aggressive defenders -- or by guys who are hotly closing out on him -- he gets ample opportunities to drive and he does so frequently. Although he doesn't get into the deep part of the paint as often as Melo, Durant has, surprisingly, been finishing better inside: He's making 62 percent of his paint shots. Durant also uses a strong pull-up game from just inside the free throw line.
Ultimately, KD's unique combination of size, length, agility, skills and feel makes him practically unguardable for most defenders.
Still, no NBA player has a better offensive mix of weapons than Anthony. Driving, shooting, posting, cutting, racing the floor, crashing the boards and drawing fouls -- Melo uses the whole array of options, which is why he often has his best games against the league's best defenses and scores proficiently in late-game situations.
As their stats and skills tell us, these two are elite scorers.
Durant 10, Anthony 10
Category No. 3: Making teammates better
In my previous player versus player breakdown, I compared James and Bryant, and this is one category in which you can see what sets those two apart from Anthony and Durant. Kobe is a great scorer who is also a gifted passer, and LeBron could go down as the best wing passer/scorer ever. Anthony and Durant, in contrast, are not at that level when it comes to helping teammates.
Neither Melo nor KD is especially good at seeing angles for teammates and anticipating movements by the defense, except as it relates to finding an opening for their own bucket-getting. That's not to say they're ball hogs, because they're not, but their scoring talents are far ahead of their passing skills.
We know they can find teammates -- each has recorded eight assists in a game this season -- but it is not a strength of either guy yet. They miss too many opportunities to get teammates the ball in great spots.
Of course, there are other ways they help their teammates: Both create scoring opportunities for others simply by working hard on offense and drawing the attention of the defense, and also by not forcing the action when double-teamed, but rather kicking the ball back out and letting their teammates play 4-on-3.
But overall, Melo and KD are pretty ordinary in this facet of the game.
Anthony 6, Durant 5
Category No. 4: On-the-ball defense
Anthony is a more willing defender than he used to be. In the past, I rarely saw the same level of intensity on defense that I saw on offense. Now he seems more willing to stick his whole head and body into a play to break it up, and to close out on a shooter who isn't his primary responsibility. He's also making more of an effort to be disruptive to ball handlers and shooters by swiping and pawing at the ball while moving his feet. He has had two or more steals in a game 17 times this season and has a chance to set a career high in takeaways.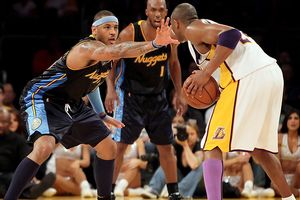 Jeff Gross/Getty Images
Still, he has some bad habits to break on defense. He rarely gets his hand up early to contest the shot on closeouts. Perhaps even worse, he often is caught watching the ball, forcing him to turn and try to catch up with his man.
He also struggles to slide in his defensive stance, especially to his left, and he stands up in his stance almost all the time rather than getting low. And he gets stuck on screens more than he should, considering how strong and nimble he is.
Like Anthony, Durant has improved on defense, and the improvement has come quickly, thanks to both mental adjustments and his great length for his position. He's likely to set a personal best in steals this season, and maybe blocks, too. On most plays, he contests shots with an outstretched hand, and relative to Anthony, who takes plays off at times, Durant rests on fewer defensive possessions.
But he is not close to being a strong on-ball defender yet. He needs to be able to continue sliding when he is guarding a hard dribble drive. And like Melo, he too often gets caught with his back to his man when he's helping, instead of staying sideways to make recovery easier.
Durant 7, Anthony 6
Category No. 5: Secondary defender
Good defense begins with what we call "starting position." It's vital to begin a possession in the right place, based on where the offensive players are and where the ball is. A defense is doomed by poor starting position.
Melo and Durant have been doing a great job in this area this season, which is half the battle as secondary defenders. They typically move off their man and toward the ball at the onset of a play. Melo may be a bit better at showing on the ball side as the play begins, making Denver's defense look more formidable by crowding the side of the floor where the ball is.
But things go downhill for both players after that. Neither is alert in help defense, and they spend more time standing or floating around than trying to stop the other team from scoring.
This is pretty typical for monster scorers who exert lots of energy on offense and want to avoid fouls. Anthony and Durant do the latter by frequently not jamming cutters, pinching drivers or doubling post threats. Fortunately, they have coaches and teammates who are aware of their roles and do whatever they can to make up for Anthony and Durant on defense.
Durant 5, Anthony 5
Category No. 6: Rebounding
Durant is pretty locked in as a defensive rebounder. That's needed, because the Thunder don't get a lot of rebounding from the bigs and are below-average as a defensive rebounding team. Only three small forwards -- James, Gerald Wallace and Matt Barnes -- have a better defensive rebound rate than Durant. He isn't as physical or dominant as James or Wallace, doesn't box out especially well and still rebounds mostly in his own area, but he is willing. With his length and great hands, that's enough.
Joe Murphy/NBAE/Getty Images
The same can't be said for Durant's efforts on the offensive glass, though that's by design. The Thunder's starting guards, Russell Westbrook and Thabo Sefolosha, crash the glass and are two of the best offensive rebounders at their respective positions, meaning that Durant has to get back on defense. So while his offensive rebound rate is very low for a small forward, that's OK within the team's scheme, and Durant is able to preserve energy and fouls by not going hard after offensive boards.
Denver wisely employs a different approach for Melo. He's a beast on the offensive glass, pushing and fighting smaller guys and punishing them with easy buckets this way. He's not always locked in, but when he's on his game, it's a big part of who he is and what makes him an all-time great scorer.
Denver is a poor defensive rebounding team, and Melo is a poor defensive rebounder. It seems likely he could be better if it mattered more to him. As strong a season as the Nuggets are having, improving at rebounding would only help their cause, and getting more than 4.2 defensive rebounds a game from their best player could make a big difference.
While Melo's work on the offensive glass can be a game-changer, Durant's overall effort is better, and that's a big reason the Thunder are a better rebounding team than the Nuggets.
Durant 6, Anthony 5
Category No. 7: Intangibles
Melo has never been known as someone who inspires teammates. It's just not in his personality: He can shut down or get petulant when he's unhappy. That said, he can also impact his teammates with his performance and his confidence, and they know what to do in many late-game situations: Get Melo the ball. They know he can carry them, and that attribute alone can help the team get on the same page.
Team togetherness in Denver is also helped by the fact that Anthony and Nuggets coach George Karl know each other well, and that Melo has changed in both body and attitude during his time under Karl. So with his superstar buying in, Karl has an easier time getting everyone else to doing the same.
Another intangible Melo brings is his ability to affect opponents, specifically the guys who have to guard him. He's one of the toughest covers in the league, physical and often relentless, the kind of player who can really turn it on when he knows he has an opponent who is helpless to defend him.
Durant is more the classic "wolf in sheep's clothing" type of player. He seems to get along with everyone and to be in lockstep with his coaches, and he's not really a fire-breathing leader. But his youthful physique and easygoing persona mask his hunger to dominate. As a scorer, he brings it every night, every possession. He may never be like LeBron or Kobe, two of the strongest personalities in the NBA, but he can be just as effective in his own way.
So even though we recognize and applaud the growth we have seen in Melo over the years, Durant gets the category.
Durant 7, Anthony 5
Conclusion
Final tally: Durant 48, Melo 44
When I started breaking down video for these guys, the first thing that jumped out was just how ordinary they both can be when they're not in shooting/scoring mode. These guys are special players, but at this point Melo and KD are not in the class of LeBron, Kobe or Dwyane Wade as all-around talents.
We constantly hear about "two-way players" or guys who "do it all," but there are very few of those players. Still, both Anthony and Durant can, in the right situation, carry a team through the playoffs and be the best player on a championship team. That puts them in select company.
Melo is more locked in on defense than he's ever been, more willing to give up his body for a stop (he's always been willing to do that for a bucket), and more patient with the ebbs and flows of the game. There is no reason to think he cannot make further progress as a passer, help defender and defensive rebounder.
Durant, of course, is far from his peak. Yet he's already one of the very best 21-year-olds in NBA history and better all-around than Melo, which alone is impressive. And this season Durant may finish as high as second (to LeBron) in the Most Valuable Player voting and play in a couple of playoff series.
Furthermore, if he can minimize his weaknesses in future seasons while developing his strengths, it's entirely possible that he can defeat the King for both the award and the ring.